LEASE RETURN SPECIALISTS.
Avoid Lease Return Charges
    Many people who lease a vehicle, tend to forget that the car isn't theirs, and that one day the leasing company will want it back. This is when many people wish they had paid more attention when reading the small print on their contracts!
Although the lease company do not expect to get the car back in perfect condition (they do allow you some "Wear & Tear"), they will charge you for excessive damage. The problem is that your idea of 'excessive' may differ wildly to that of the lease company!
 
Don't forget that the lease company needs to sell your car before they get their profit and so they need it back in a resale condition. You can still expect them to be very strict, noting every area of damage and charging you at the full cost of repair, or for the cost of devaluation that the damage has on the car. And here lies the problem and the solution! call us today for a free inspection (313)790-0888
'Here's the solution'
We can inspect your car for you using the same industry standard as the lease return inspectors and identify the things they are looking for. We can put many of these hotspots right with our full range of services, which work out much cheaper than replacement parts and body shop repair prices .
When returning your leased vehicle, PDR is still the most economical technique to restore your car's surface back to its original factory condition.
Click here For free estimate

Our New Location Is minutes away

29429 SIX MILE RD.
JUST WEST OF MIDDLE BELT RD
LIVONIA 48152
Different lease companies will have different contracts with rules and regulations, so we cannot advise you about specifics, so sit down with your contract and read through it, be aware of your responsibilities and take notes if need be.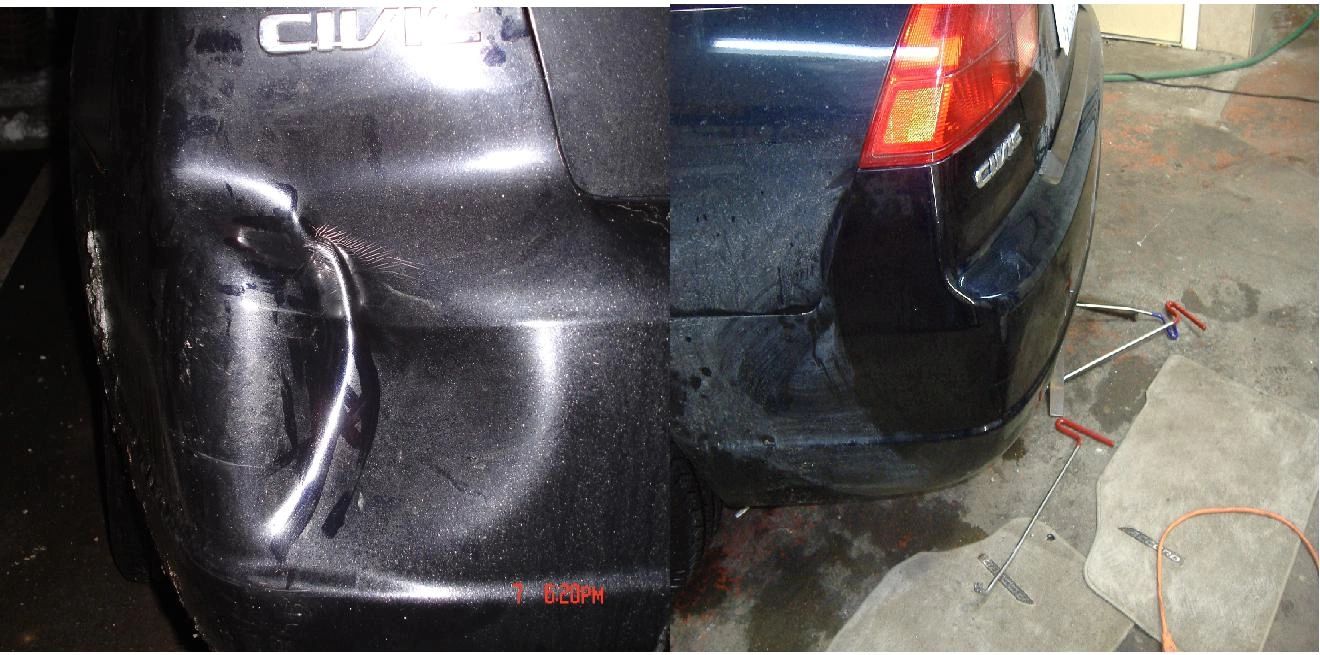 We strive for exellence let us show you
 this dent was repaird the same day in two hours ,not two days, with out using any paint or fillers (BONDO) .
So ther is no need for car Rentals ,And no worries About color Matching.
and the cost was much Lower then the insurance Deductible
thats PDR.
Lease or Rental company will Charge you  for things such as scratches, Door Dings, Dents, chips in paint and  Windshield and tears in upholstery.cigarrete burns, You may also be charged for vehicles which have been heavily soiled or have excessive odours, low thred tires etc...Bring your car to us we service all the above.We can deliver the level of commitment and service you need. 
(313)790-0888

 

Severe damage, especially where paintwork is broken will require a bodyshop repair.

However, with some damage, dent repair can be used to improve the panel so that replacement of the panel is not required. On occasions dent removal can be used in conjunction with body shop techiniques to avoid the replacing and repainting of whole panels, but this will depend very much on the size, location and type of damage.